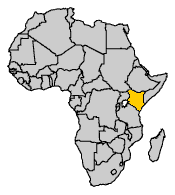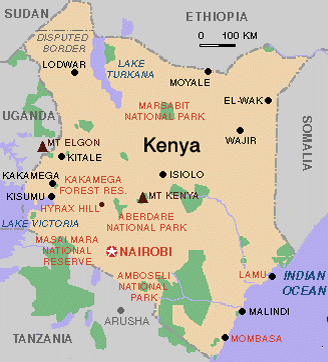 KENYA
We went to Nairobi and the Masai Mara National Reserve in Kenya. Can you find them on the map?

Kenya has been described as "the cradle of humanity." In areas of the Great Rift Valley, paleontologists have discovered some of the earliest evidence of man's ancestors. The Leakey family has found and catalogued many of these remains, and among Mary Leakey's discoveries were the remains of homo habilis and a skull of homo erectus - the predecessor of homo sapiens. Very cool!

Fun Facts:

Capital City
Nairobi, population 1,500,000.
5,500 feet above sea level.

Comparative Size
Kenya is about the size of Texas.

Currency
Kenya Shilling (KSH), divided into 100 cents.
78 KSh = US$1 (July 2002).

Climate
The temperature is 60 to 80 degrees year around with the hottest time being December to February. We went during their winter so it was perfect at 70 degrees! In the low lying districts, particularly along the coast, the climate is tropical, hot, and humid. On the plateau and in the highlands (where we were), the climate is more temperate. There are normally two periods of rain, the long rains from April to June and the short rains in October and November.

Time
Kenya is 10 hours ahead of Pacific Standard Time. As Kenya is on the equator, the days have the same number of hours year round (twelve hours of daylight from 6:30 a.m. to 6:30 p.m.); sunrise and sunset takes place rapidly.

Languages
English (official), Swahili (official), numerous indigenous languages. Everyone who is in the tourism industry speaks English - "The Queen's English" - so you have to really listen! To each other, they'll most often speak Swahili.

Words to know in Swahili:
JAMBO - Hello.
ASANTE SANA - Thank you very much.
KARIBU - You're welcome.
SAWA SAWA- Okay.
HAKUNA MATATA - No problem!

Events
Kenya's most spectacular annual event is organized by an unlikely group - wildebeests. Literally millions of these ungainly antelopes move in mass in July and August from the Serengeti in search of lush grass. They head south again around October. The best place to see this phenomenon is at the Masai Mara National Reserve.

Sports
Some the best World Class long-distance runners are from the Kipsigis tribe of the highlands of Kenya.

Driving
Kenyans drive on the left hand side of the road and the roads are horrible. My advice – hire someone to drive you around. We did!

Ethnic Divisions/Tribes
The population of Kenya is around 30 million. The principal ethnic groups are Africans with small minorities of Asians (80,000), Arabs (40,000), and Europeans (40,000). Within Kenya, there are over forty tribal groups representing Bantu, Nilo-Hamitic, and Nilotic origins. Within each of these tribal groups a common language exists. Each tribe then uses its own dialect of the language.

Religions
Protestant (including Anglican) 38%, Roman Catholic 28%, indigenous beliefs 26%, other 8%.

Education
Education is not compulsory. The government provides, or assists, in the provision of schools. Primary education is provided free of charge. The education system involves eight years of primary (beginning at 5 or 6 years of age), five years of secondary school, and four years of university education. The adult literacy rate, in 1990, was 69%; among males the figure was 79.8%, and females 58.5%.

Type of Government
Republic.
In 1891, the East African British Empire was formed. The area encompassed the land that is now Kenya, Tanzania, and Uganda. Independence from the United Kingdom came on December 12, 1963. The legal system is based on English common law, tribal law, and Islamic law. Politics was dominated by Jomo Kenyatta. He was succeeded in 1978 by President Daniel arap Moi.

Labor Force
By occupation: Agriculture 75%-80%, Non-agriculture 20%-25%.
Unemployment rate: 50% (1998 est).
Average annual income: US $360.
Population below poverty line: 42% (1992 est).

Industries
Small-scale consumer goods (plastic, furniture, batteries, textiles, soap, cigarettes, flour), agricultural processing; oil refining, cement; tourism. Kenya is one of Africa's major safari destinations.

Agriculture
Coffee, tea, corn, wheat, sugarcane, fruit, vegetables; dairy products, beef, pork, poultry, eggs. Ever had Kenyan coffee? Next time check the label -- you'll be surprised!


TOP OF PAGE

Copyright © 2002, Dawn M. Dalton.
All rights reserved.