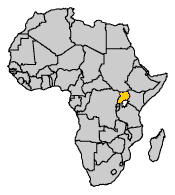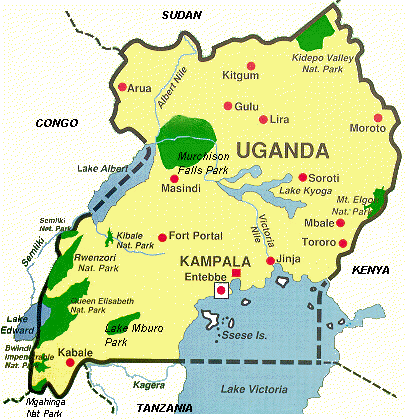 UGANDA
We flew into Entebbe, and we went to Kampala, Jinja, Queen Elizabeth National Park, and Bwindi Impenetrable National Park. Can you find all of these locations on the map?

In the early 1900s, Sir Winston Churchill wrote this of Uganda: "For magnificence, for variety of form and color, for profusion of brilliant life - plant, bird, insect, reptile, beast - for vast scale ... Uganda is truly the pearl of Africa." The nickname has stuck, "Pearl of Africa", and we have to agree!

Fun Facts:

Capital City
Kampala, population 750,000.

Comparative Size
Uganda is slightly smaller than Oregon.

Currency
Ugandan Shilling (USh), divided into 100 cents.
1,700 USh = US$1 (July 2002).

Climate
Tropical and muggy! The average daytime temperature is 75 to 82 degrees. Itís generally rainy with two dry seasons (December to February and June to August). Itís semiarid in the northeast. Uganda is a landlocked, fertile, and well-watered country with many lakes and rivers.

Time
Uganda is 10 hours ahead of Pacific Standard Time. Since Uganda is on the equator, the days have the same number of hours year round (twelve hours of daylight, 6:30 a.m. to 6:30 p.m.); sunrise and sunset take place rapidly.

Languages
English (official national language, taught in grade schools, used in courts of law and by most newspapers and some radio broadcasts), Luganda, Swahili, Bantu languages, and Nilotic languages. Everyone who is in the tourism industry speaks English - "The Queen's English" - so you have to really listen! To each other, they often speak Swahili.

Words to know in Swahili:
JAMBO - Hello.
ASANTE SANA - Thank you very much.
KARIBU - You're welcome.
SAWA SAWA- Okay.
HAKUNA MATATA - No problem!

Driving
Ugandans drive on the left hand side of the road and the roads are horrible. My advice Ė hire someone to drive you around. We did!

Ethnic Divisions/Tribes
The population of Uganda is around 24 million, and consists of mostly Africans (99%) and a few Europeans, Asians, and Arabs (1%). The two main tribal groups are the Bantu tribes in the south and the Nilotic tribes of the center and north. Uganda is host to refugees from a number of neighboring countries, including Zaire, Sudan, and Rwanda. Probably in excess of 100,000 southern Sudanese fled to Uganda during 1999, and many of the 8,000 Rwandans who took refuge in Uganda have returned home.

Religions
Roman Catholic 33%, Protestant 33%, Muslim 16%, indigenous beliefs 18%.

Education
Education in Uganda consists of seven years of primary education, followed by the lower secondary cycle of two years and the upper secondary cycle of two years, after which there are three to five years of university studies. Everyone we met told us that the public school system is really bad, and the goal is to put all your children in private schools. In 1997, the adult literacy rate was 64%; among males the figure was 75% and females 53%.

Type of Government
Republic.
In 1891, the East African British Empire was formed. The area encompassed the land that is now Kenya, Tanzania, and Uganda. Independence from the United Kingdom came on October 9, 1962, and the King of Baganda was appointed head of state and Milton Obote became prime minister. The dictatorial regime of Idi Amin (1971-79) was responsible for the deaths of some 300,000 opponents. Guerrilla war and human rights abuses under Milton Obote (1980-85) claimed another 100,000 lives. During the 1990s, the government promulgated non-party presidential and legislative elections.

Labor Force
By occupation: agriculture 86%, industry 4%, services 10% .
Unemployment rate: 7.4% (1997).
Average annual income: US $310.
Population below poverty line: 35% (2000 est.).

Industries
Sugar, brewing, tobacco, cotton textiles, and cement .

Agriculture
Coffee, tea, cotton, tobacco, cassava (tapioca), potatoes, corn, millet, pulses; beef, goat meat, milk, and poultry.


TOP OF PAGE

Copyright © 2002, Dawn M. Dalton.
All rights reserved.


**LINKS**
WHERE?
WHY?
ITINERARY
PLAN YOUR TRIP
GETTING THERE
LONDON
KENYA
UGANDA
SAFETY
ITEMS BOUGHT
STAYING HEALTHY
COMMENTS
HOME
BHS HOME
**UGANDA LINKS**
--Jinja--
Namugongo Martyr's Shrine
Bujagali Falls
Source of Nile
Ssezibwa Falls
--Uganda--
Countryside
People
Kampala
Equator
Queen Elizabeth Park
Mweya Safari Lodge
Kazinga Channel Cruise
Nature Walk
Chambura Gorge
Chimpanzee Tracking
Bwindi Impenetrable Forest
Volcanoes Bwindi Camp
Gorilla Tracking
---Animal Facts--
Baboon
Buffalo
Chimpanzee
Crocodile
Elephant
Giant Forest Hog
Gorilla
Hippopotamus
Hyena
Mongoose
Monkey
Uganda Kob
Warthog
Waterbuck