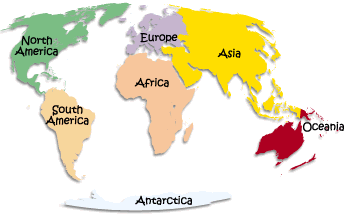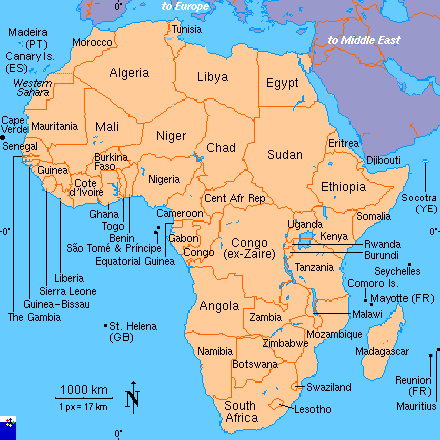 AFRICA
Africa, the planet's 2nd largest continent, includes 53 countries and contains the Nile River, the world's longest, and the massive Sahara Desert, the world's largest. The continent's highest point is Mt. Kilimanjaro, in Tanzania, at 19,341 feet, while the lowest point is Lac' Assal in the small country of Djibouti, 512 feet below sea level.

Africa is HUGE! To give you a perspective by comparing it to the United States, from Cairo (Egypt) to Nairobi (Kenya) it's 2,182 miles. From San Francisco to New York, it's 2,582 miles! And that's only half of the continent going from north to south. If you go from Nairobi (Kenya) to Cape Town (South Africa), it's 2,533 miles! Wow.

Because Africa is so large, it's broken out into four regions: north, south, east, and west Africa. We went to EAST Africa. When you talk to other people who travel, you've got to be hip to this. Don't say you've been to South Africa, getting it confused with South America. No, no. You went to AFRICA and if they ask what part: EAST AFRICA. Now you're up to speed!

In East Africa, we went to the countries of KENYA and UGANDA. Do you see them on the map?

Jeff and I would like to explore two other areas in Africa in our lifetimes. We would like to see the southern region, including Cape Town and Johannesburg in South Africa, Victoria Falls in Zimbabwe, and game drives in this region. Some day when it's safe, we would like to explore Egypt and all its pyramids. I'm glad we're young!


TOP OF PAGE

Copyright © 2002, Dawn M. Dalton.
All rights reserved.