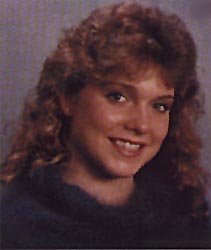 Are you this alumni? Please fill out this Alumni Form.
WHAT SONGS MAKE YOU THINK OF THE "GOOD OL' DAYS?"
Anything by AC/DC and unfortunately the Scorpions too. Blondie, Aerosmith, Rush and Eurithmics.
WHAT ACTIVITIES WERE YOU INVOLVED IN (CLUBS, SPORTS, ETC.) IN HS?
It took me a while to detox from the 25,000+ hours of chlorine saturation accumulated during my swimming endeavors. I also tried high jump, long jump, and French Club. I'm sure I did more but it eludes me now.
WHO WAS YOUR FAVORITE TEACHER AND WHAT WAS YOUR FAVORITE CLASS SUBJECT?
Oh by far Mrs. Owen and literature. I communicated with her for 20 years and just recently have not heard back from her.
WHAT ARE YOUR BEST MEMORIES OF HS?
I loved my motivational chats with Mr. Chambers. I cherish the kind words of friends such as Janet H. and Tommy B. I appreciate the fashion advice from Anna S. and satisfying my wild side with Lynda A. There's more...
WHAT WAS YOUR MOST EMBARRASSING MOMENT IN HS?
When my older brother Jim told Steve I was too young to date.
WHAT IS SOMETHING YOU WANTED TO DO IN HS BUT NEVER DID?
Repelling from Purple Hall balcony. I also would have enjoyed the debate team, discussing interesting issues that would have broadended my small world view.