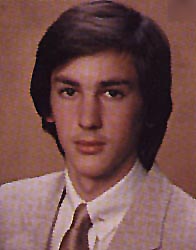 Are you this alumni? Please fill out this Alumni Form.
WHAT SONGS MAKE YOU THINK OF THE "GOOD OL' DAYS?"
We Built This City (Starship).
If You Love Somebody Set Them Free (Sting).
Every Breath You Take (The Police).
Sunglasses at Night (Corey Hart).
Here Comes the Rain Again (Eurythmics).
Twighlight Zone (Golden Earring).
Stray Cat Strut (Stray Cats).
Rock the Casbah (The Clash).
Sledgehammer (Peter Gabriel).
Money for Nothing (Dire Straits).
The Power of Love (Huey Lewis and the News).
"1984" Albumn by Van Halen.
Everything by the Scorpions.
WHAT ACTIVITIES WERE YOU INVOLVED IN (CLUBS, SPORTS, ETC.) IN HS?
Symphonic Band, chess club, computer programming geek.
WHO WAS YOUR FAVORITE TEACHER AND WHAT WAS YOUR FAVORITE CLASS SUBJECT?
Pete Tryon, but my favorite class was band.
WHAT ARE YOUR BEST MEMORIES OF HS?
Hanging out with my buddy, Kevin Sutherland, and dating Mary Van Asma.
WHAT WAS YOUR MOST EMBARRASSING MOMENT IN HS?
No Information Provided.
WHAT IS SOMETHING YOU WANTED TO DO IN HS BUT NEVER DID?
No Information Provided.