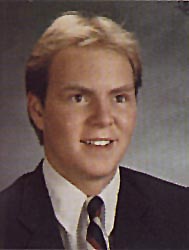 Are you this alumni? Please fill out this Alumni Form.
WHAT SONGS MAKE YOU THINK OF THE "GOOD OL' DAYS?"
That song from the movie The Breakfast Club, "Don't you forget about me" by the Simple Minds.
WHAT ACTIVITIES WERE YOU INVOLVED IN (CLUBS, SPORTS, ETC.) IN HS?
Music.
WHO WAS YOUR FAVORITE TEACHER AND WHAT WAS YOUR FAVORITE CLASS SUBJECT?
Mrs. Goll and her Humanities class.
WHAT ARE YOUR BEST MEMORIES OF HS?
Too many to recall. High school was a lot of fun.
WHAT WAS YOUR MOST EMBARRASSING MOMENT IN HS?
Sr. Homecoming parade in the gym. That's a tough one to explain to my daughters as they see the pictures in our 1986 year book.
WHAT IS SOMETHING YOU WANTED TO DO IN HS BUT NEVER DID?
Shag a teacher.