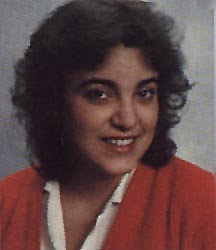 Are you this alumni? Please fill out this Alumni Form.
WHAT SONGS MAKE YOU THINK OF THE "GOOD OL' DAYS?"
"Round and Round" Anything from Journey's Escape album.
WHAT ACTIVITIES WERE YOU INVOLVED IN (CLUBS, SPORTS, ETC.) IN HS?
The German Club and sneaking out to smoke by the gym during class.
WHO WAS YOUR FAVORITE TEACHER AND WHAT WAS YOUR FAVORITE CLASS SUBJECT?
Frau Sanders and Satch Carlson were my favorite...German was my favorite subject.
WHAT ARE YOUR BEST MEMORIES OF HS?
Hanging in the halls with my friends. School dances! Skipping school in the parking lot trying not to get caught.
WHAT WAS YOUR MOST EMBARRASSING MOMENT IN HS?
Having to tell Mr. Zimmerman I needed to leave class because the zipper busted in my jeans.
WHAT IS SOMETHING YOU WANTED TO DO IN HS BUT NEVER DID?
I wanted to be involved in sports...but I never tried out!! I was to busy socializing.