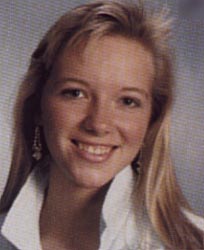 Are you this alumni? Please fill out this Alumni Form.
WHAT SONGS MAKE YOU THINK OF THE "GOOD OL' DAYS?"
"Jack and Diane" - John Melloncamp; "Dancing with Myself" - Billy Idol; "Material Girl" - Madonna; "Rock the Casbah" - The Clash.
WHAT ACTIVITIES WERE YOU INVOLVED IN (CLUBS, SPORTS, ETC.) IN HS?
Volleyball, German Club.
WHO WAS YOUR FAVORITE TEACHER AND WHAT WAS YOUR FAVORITE CLASS SUBJECT?
Frau Sandars - German.
WHAT ARE YOUR BEST MEMORIES OF HS?
Janet Haslett and I dressed up for a fancy dance at the Captain Cook, and we decided to go to a hockey game, instead. We were all dressed up, high heels and all, yelling at a hockey game at Ben Boeke ice arena.
WHAT WAS YOUR MOST EMBARRASSING MOMENT IN HS?
Janet Haslett and I playing hookey one day at lunch and getting busted by one of the security guards.
WHAT IS SOMETHING YOU WANTED TO DO IN HS BUT NEVER DID?
I can't think of a better high school experience, than I had.