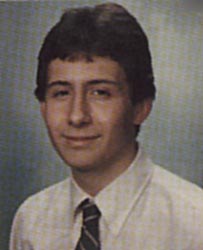 Are you this alumni? Please fill out this Alumni Form.
WHAT SONGS MAKE YOU THINK OF THE "GOOD OL' DAYS?"
"White Wedding" - all it reminds me of is Stacy Cox and school dances!
WHAT ACTIVITIES WERE YOU INVOLVED IN (CLUBS, SPORTS, ETC.) IN HS?
Band, riflery, downhill skiing, and raquetball.
WHO WAS YOUR FAVORITE TEACHER AND WHAT WAS YOUR FAVORITE CLASS SUBJECT?
Mr. Von Kennon, band. Mrs. MacDonald, because she taught me to learn.
WHAT ARE YOUR BEST MEMORIES OF HS?
Paula Davila, my girlfriend.
WHAT WAS YOUR MOST EMBARRASSING MOMENT IN HS?
Throwing up on the bus to school. Had vitamins without any breakfast!
WHAT IS SOMETHING YOU WANTED TO DO IN HS BUT NEVER DID?
Sleep with Rachel Green.