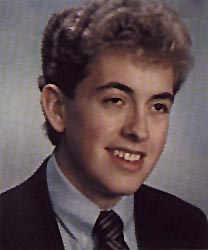 Are you this alumni? Please fill out this Alumni Form.
WHAT SONGS MAKE YOU THINK OF THE "GOOD OL' DAYS?"
Photograph, Jump, Shout At the Devil, Bark at the Moon, Rock You Like a Hurricane, anything from Dokken...
WHAT ACTIVITIES WERE YOU INVOLVED IN (CLUBS, SPORTS, ETC.) IN HS?
Band, Cross-Country running.
WHO WAS YOUR FAVORITE TEACHER AND WHAT WAS YOUR FAVORITE CLASS SUBJECT?
Mrs. Goll was my single favorite teacher but, overall, Symphonic and Stage Bands were my favorite classes.
WHAT ARE YOUR BEST MEMORIES OF HS?
Meeting Tammy, playing drums in Stage Band (after waiting for Steve Gallagher to graduate so I could get the coveted drummer's spot), playing guitar with various hair bands - and air bands - in the Little Theater (what we lacked in hair, we made up for in pink spandex), playing drums in Sound Advice (church group of kids from the various high schools).
WHAT WAS YOUR MOST EMBARRASSING MOMENT IN HS?
Hearing my voice change while reading Shakespeare aloud in Mrs. Armstrong's class. Why couldn't it have happened in the middle of the night??
WHAT IS SOMETHING YOU WANTED TO DO IN HS BUT NEVER DID?
Break a 7-minute mile!! You'd think that would have been easier with long spindly legs......