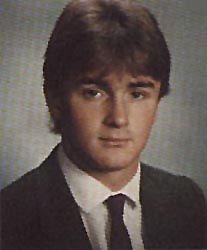 Are you this alumni? Please fill out this Alumni Form.
WHAT SONGS MAKE YOU THINK OF THE "GOOD OL' DAYS?"
Anything from the 80's...especially those Journey, Chicago and Foreigner tunes. Very 80's.
WHAT ACTIVITIES WERE YOU INVOLVED IN (CLUBS, SPORTS, ETC.) IN HS?
German Club, Track, JV Football, goofing off, chasing girls...not doing what I was supposed to.
WHO WAS YOUR FAVORITE TEACHER AND WHAT WAS YOUR FAVORITE CLASS SUBJECT?
Had to be Frau Sanders & German class. She made learning fun.
WHAT ARE YOUR BEST MEMORIES OF HS?
Hard to say...I'd have to hook up with some folks to jog my memory.
WHAT WAS YOUR MOST EMBARRASSING MOMENT IN HS?
There were plenty, but probably the time I sank my dad's red Chevy Suburban in a big puddle by the entrance to the school during breakup. Me and the folks I had gone to lunch had to climb out on the roof and wait to be rescued. Somehow a photo of that event ended up in the Anchorage Times the next day.
WHAT IS SOMETHING YOU WANTED TO DO IN HS BUT NEVER DID?
Letter in football?