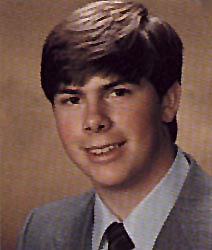 Are you this alumni? Please fill out this Alumni Form.
WHAT SONGS MAKE YOU THINK OF THE "GOOD OL' DAYS?"
No Information Provided.
WHAT ACTIVITIES WERE YOU INVOLVED IN (CLUBS, SPORTS, ETC.) IN HS?
Football, Wrestling, ROTC.
WHO WAS YOUR FAVORITE TEACHER AND WHAT WAS YOUR FAVORITE CLASS SUBJECT?
No Information Provided.
WHAT ARE YOUR BEST MEMORIES OF HS?
The week I spent at Pete Miller's house while his parents were on vacation at Snowmass. Can you say, no adult supervision?
WHAT WAS YOUR MOST EMBARRASSING MOMENT IN HS?
When I slipped on the ice and busted my butt getting out of the car at prom.
WHAT IS SOMETHING YOU WANTED TO DO IN HS BUT NEVER DID?
No Information Provided.