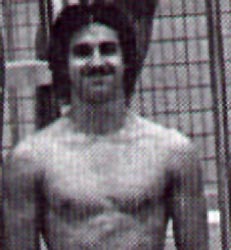 Are you this alumni? Please fill out this Alumni Form.
WHAT SONGS MAKE YOU THINK OF THE "GOOD OL' DAYS?"
Any 80's music.
WHAT ACTIVITIES WERE YOU INVOLVED IN (CLUBS, SPORTS, ETC.) IN HS?
Cross country running, weight training, track, diving, Mr. Bartlett Contest.
WHO WAS YOUR FAVORITE TEACHER AND WHAT WAS YOUR FAVORITE CLASS SUBJECT?
Teacher Mrs. Sinclair. Subject small engines, weight training, and graphic arts.
WHAT ARE YOUR BEST MEMORIES OF HS?
Making it to Nationals in diving; working out twice a day; senior skip day.
WHAT WAS YOUR MOST EMBARRASSING MOMENT IN HS?
Having a locker on green hall one year.
WHAT IS SOMETHING YOU WANTED TO DO IN HS BUT NEVER DID?
Should have joined diving as a Freshman instead of waiting for my Senior year.