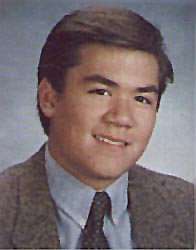 Are you this alumni? Please fill out this Alumni Form.
WHAT SONGS MAKE YOU THINK OF THE "GOOD OL' DAYS?"
You know the songs.
WHAT ACTIVITIES WERE YOU INVOLVED IN (CLUBS, SPORTS, ETC.) IN HS?
Hockey and tennis.
WHO WAS YOUR FAVORITE TEACHER AND WHAT WAS YOUR FAVORITE CLASS SUBJECT?
Mr. Nelson, Mrs. Goll, Coach Anderson, Mrs. Boots, Satch, I thought Hamilton was a hoot. Mr. Wolfley let me sleep in class on game days.
WHAT ARE YOUR BEST MEMORIES OF HS?
Hanging out with the "Usual Suspects" and not getting caught doing, well...
WHAT WAS YOUR MOST EMBARRASSING MOMENT IN HS?
There are plenty of people out there that have some dirt on me. Ask them.
WHAT IS SOMETHING YOU WANTED TO DO IN HS BUT NEVER DID?
Nothing comes to mind.