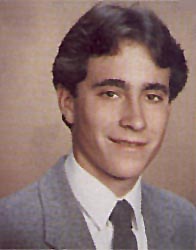 Are you this alumni? Please fill out this Alumni Form.
WHAT SONGS MAKE YOU THINK OF THE "GOOD OL' DAYS?"
Scorpions.
WHAT ACTIVITIES WERE YOU INVOLVED IN (CLUBS, SPORTS, ETC.) IN HS?
American Legion Baseball.
WHO WAS YOUR FAVORITE TEACHER AND WHAT WAS YOUR FAVORITE CLASS SUBJECT?
Robert Moser in Chemistry had more of my respect than any teacher I had there. My favorite class was drafting.
WHAT ARE YOUR BEST MEMORIES OF HS?
No Information Provided.
WHAT WAS YOUR MOST EMBARRASSING MOMENT IN HS?
Getting pulled out of my freshman year Algebra class final exam by security because the friends that I had been drinking with at lunch time ended up puking in the nurses office and then rated me out.
WHAT IS SOMETHING YOU WANTED TO DO IN HS BUT NEVER DID?
No Information Provided.