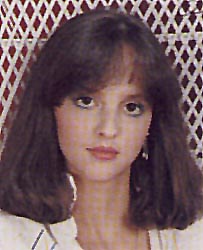 Are you this alumni? Please fill out this Alumni Form.
WHAT SONGS MAKE YOU THINK OF THE "GOOD OL' DAYS?"
Songs I can listen to over and over again still….Tainted Love, Der Kommissar, Safety Dance, Dance Hall Days, and Just a Gigolo. Songs that bring back memories? I spent a lot of time in my car, so there are too many to even write down. But here is a list to bring back some memories http://inthe80s.tripod.com/
WHAT ACTIVITIES WERE YOU INVOLVED IN (CLUBS, SPORTS, ETC.) IN HS?
? I did take stats for the hockey team my senior year. Can you believe I actually lettered in something? Me neither.
WHO WAS YOUR FAVORITE TEACHER AND WHAT WAS YOUR FAVORITE CLASS SUBJECT?
Mr. Carlson was my favorite teacher. Mrs. Richmond's photography class was great!
WHAT ARE YOUR BEST MEMORIES OF HS?
Spending time with my girlfriends - Tami Foster, Shawna Thomas, Cathy Sharkey, Laurie Peterson, Brie Williams, and a lot more that I have lost touch with. I was never very good at that, but I am getting better. Being designated driver….I always got stuck doing that, but I am sure I saved a few lives. Which brings me to my '65 Mustang, I miss that car. But the best was the parties and basically everything but being in class. It's amazing I graduated!
WHAT WAS YOUR MOST EMBARRASSING MOMENT IN HS?
I'm sure someone will remind me. I remember Tim Richards picking me up and running me in the men's locker room, but come to think of it, I think it embarrassed the guys in the shower more than me.
WHAT IS SOMETHING YOU WANTED TO DO IN HS BUT NEVER DID?
Learn a second language…..Spanish would definitely help me where I live now!!!!!