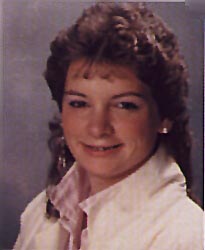 Are you this alumni? Please fill out this Alumni Form.
WHAT SONGS MAKE YOU THINK OF THE "GOOD OL' DAYS?"
Songs by REO Speedwagon - my first concert. Dani Stark and I went.
WHAT ACTIVITIES WERE YOU INVOLVED IN (CLUBS, SPORTS, ETC.) IN HS?
DECA.
I played softball and basketball before I moved to Alaska in 1984. I did not play at Bartlett but later played in the city league in Anchorage for quite some time.
WHO WAS YOUR FAVORITE TEACHER AND WHAT WAS YOUR FAVORITE CLASS SUBJECT?
I went to three different high schools and I think that all the teachers that I remember most came from Bartlett. I especially remember Mrs. Olson, who was my guidance counselor. She was a great help, always had great words of encouragement and a friendly smile.

Other teachers that I remember and appreciate most are Bob Moser (in addition to high school, he helped me through Freshman Chemistry at UAA). Mrs. Goll - I loved her Humanities class. Mr. Carlson and Mrs. Parnell.
WHAT ARE YOUR BEST MEMORIES OF HS?
I remember all the times that David Walker had to help Dani Stark and I out with car problems. One day, Dani ran my car into a retaining wall on the way to school and David had it fixed before the day was over so that I didn't have to tell my dad.

Senior Skip Day (what I can remember).
Senior Awards - the night of Senior Skip day - Mom was not to pleased.
WHAT WAS YOUR MOST EMBARRASSING MOMENT IN HS?
That horrible picture that went in the yearbook!!!!
WHAT IS SOMETHING YOU WANTED TO DO IN HS BUT NEVER DID?
I really wished I would have continued to play ball when I started at Bartlett. I worked a lot so I did not have time. Now, I realize I should have played ball and not worried about working so much.