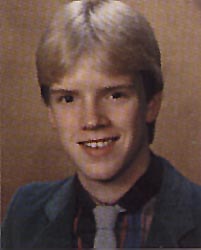 Are you this alumni? Please fill out this Alumni Form.
WHAT SONGS MAKE YOU THINK OF THE "GOOD OL' DAYS?"
Crowded House -Don't Dream It's Over.
Peter Gabriel - Sledgehammer.
WHAT ACTIVITIES WERE YOU INVOLVED IN (CLUBS, SPORTS, ETC.) IN HS?
Football, Soccer, Tennis, Wrestling, Pep Club, French Club, D.E.C.A., Bear Cache Store.
WHO WAS YOUR FAVORITE TEACHER AND WHAT WAS YOUR FAVORITE CLASS SUBJECT?
Madamoiselle Higley - French.
WHAT ARE YOUR BEST MEMORIES OF HS?
School dances, managing the wrestling team, trip to France, organizing last school dance (for my class).
WHAT WAS YOUR MOST EMBARRASSING MOMENT IN HS?
Being a freshman and trying to be cool by walking down the balcony on Blue hall, when the heavyweight on the wrestling team grabbed me and said "I got a live one here" and hung me over the balcony to my death in the middle of main place.
Also being beatin' up by... he knows who he is.
WHAT IS SOMETHING YOU WANTED TO DO IN HS BUT NEVER DID?
Date, anyone!!! It's such a sad story.