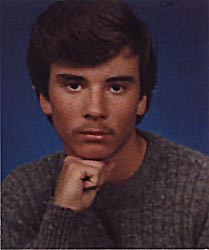 Are you this alumni? Please fill out this Alumni Form.
WHAT SONGS MAKE YOU THINK OF THE "GOOD OL' DAYS?"
"Heaven" and the theme from Top Gun.
WHAT ACTIVITIES WERE YOU INVOLVED IN (CLUBS, SPORTS, ETC.) IN HS?
Basketball, Track, and Speech (Public Speaking).
WHO WAS YOUR FAVORITE TEACHER AND WHAT WAS YOUR FAVORITE CLASS SUBJECT?
I was blessed with so many great teachers. K. Goll, S. Carlson, J. Armstrong...etc. My favorite was probably Coach Whitmore because he was a coach and father figure to me as well as a teacher.
WHAT ARE YOUR BEST MEMORIES OF HS?
Winning our first ever state basketball title over East in 1986. My first prom with Cheryl Wolf in 1984. Graduating with a great class in 1986!
WHAT WAS YOUR MOST EMBARRASSING MOMENT IN HS?
The first time I ever was allowed to drive to school. I went and picked up my then girlfriend Cheryl Wolf and her sister Heather. We were going along just fine until I slid through an intersection doing 360's and out of control. We never hit anyone thank God! I don't think I ever gave the Wolf sisters a ride again.
WHAT IS SOMETHING YOU WANTED TO DO IN HS BUT NEVER DID?
Run for a class office.