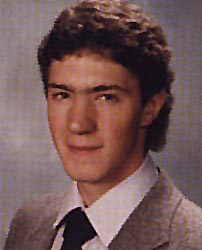 Are you this alumni? Please fill out this Alumni Form.
WHAT SONGS MAKE YOU THINK OF THE "GOOD OL' DAYS?"
Anything considered retro nowadays.
WHAT ACTIVITIES WERE YOU INVOLVED IN (CLUBS, SPORTS, ETC.) IN HS?
Cross-country running, band, downhill skiing, drinking, and doing very stupid things. Only now my knees are shot and my left hip is arthritic.
WHO WAS YOUR FAVORITE TEACHER AND WHAT WAS YOUR FAVORITE CLASS SUBJECT?
No Information Provided.
WHAT ARE YOUR BEST MEMORIES OF HS?
My truck, and gettin pissed in it on Friday nights out behind Bartlett with friends!
WHAT WAS YOUR MOST EMBARRASSING MOMENT IN HS?
Air band contest!
WHAT IS SOMETHING YOU WANTED TO DO IN HS BUT NEVER DID?
No Information Provided.