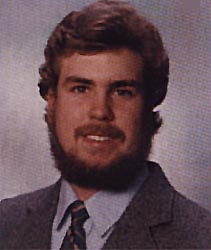 Are you this alumni? Please fill out this Alumni Form.
WHAT SONGS MAKE YOU THINK OF THE "GOOD OL' DAYS?"
The metal years seem to stick in my head. Judas Priest, Iron Maiden, Sammy Hagar and the Scorpions. Amazing that they are still going!
WHAT ACTIVITIES WERE YOU INVOLVED IN (CLUBS, SPORTS, ETC.) IN HS?
The Rifle Team, the Rifle Club and the Close Up trip to Washington, DC.
WHO WAS YOUR FAVORITE TEACHER AND WHAT WAS YOUR FAVORITE CLASS SUBJECT?
Mr. Chambers and Mr. Wolfley for all the Social Studies classes I took and I always enjoyed Mrs. Olsen's writing classes.
WHAT ARE YOUR BEST MEMORIES OF HS?
Getting the opportunity to go to Washington, DC as part of the Close Up program and the Rifle meets around Anchorage. Hard to believe they would let us carry guns through the hallways in those days.
WHAT WAS YOUR MOST EMBARRASSING MOMENT IN HS?
Two words. MOON BOOTS!
WHAT IS SOMETHING YOU WANTED TO DO IN HS BUT NEVER DID?
I look back and wish I had tried out for some other sports besides the Rifle Team and realize now that I should have been more outgoing and social.