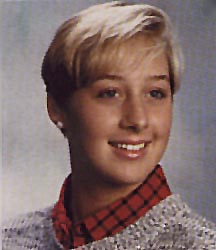 Are you this alumni? Please fill out this Alumni Form.
WHAT SONGS MAKE YOU THINK OF THE "GOOD OL' DAYS?"
Anything old by Madonna. Or Alphaville or Berlin.
WHAT ACTIVITIES WERE YOU INVOLVED IN (CLUBS, SPORTS, ETC.) IN HS?
TENNIS!
Also cheerleading, and yearbook.
WHO WAS YOUR FAVORITE TEACHER AND WHAT WAS YOUR FAVORITE CLASS SUBJECT?
I appreciate Pete Tryon and his sense of humor much more now, then I think I did then. (Probably due to my staggering lack of mathematical ability at that time...)
WHAT ARE YOUR BEST MEMORIES OF HS?
In general that was a very carefree and happy time for me. (Who knew how stressful adult life was going to be!)
WHAT WAS YOUR MOST EMBARRASSING MOMENT IN HS?
Not sure. Probably have to ask someone else.
WHAT IS SOMETHING YOU WANTED TO DO IN HS BUT NEVER DID?
Take Russian I!