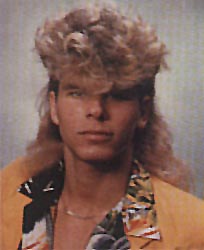 Are you this alumni? Please fill out this Alumni Form.
WHAT SONGS MAKE YOU THINK OF THE "GOOD OL' DAYS?"
Your probably thinking Duran Duran, but actually RUSH, OZZY, IRON MAIDEN etc...
WHAT ACTIVITIES WERE YOU INVOLVED IN (CLUBS, SPORTS, ETC.) IN HS?
That was way too many brain cells ago, but here goes nothing.......Oh yeah, nothing.
WHO WAS YOUR FAVORITE TEACHER AND WHAT WAS YOUR FAVORITE CLASS SUBJECT?
Shiela Owen, unfortunatley deceased last year. She knew I did not need to be there due to my private education prior to my arrival at Bartlett, so at the beginning of class she would hand me the keys to her turbo Saab 900S and a gas card with instructions to have fun and bring it back full.

Fred Wolfley, and lets just say we were always on the same wavelength during class and after.
WHAT ARE YOUR BEST MEMORIES OF HS?
Again, back to the brain cell thing.
WHAT WAS YOUR MOST EMBARRASSING MOMENT IN HS?
Welllll, I guess it should have been embarrassing, but even now I think it was just funny....During Ms. Asklands typing class I stood up in my chair and mooned Paul who was in the hall taking pictures for photography class. He developed, enlarged and inserted it in one of the glass encased messageboards on purple hall. It just so happened that no one had a key, so the photo was there for half the day until a locksmith arrived.
WHAT IS SOMETHING YOU WANTED TO DO IN HS BUT NEVER DID?
Have sex on the roof on a hot sunny day.