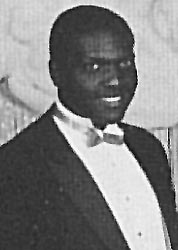 Are you this alumni? Please fill out this Alumni Form.
WHAT SONGS MAKE YOU THINK OF THE "GOOD OL' DAYS?"
Bryan Adams' "Heaven", Motley Crue's "Looks that Kill".
WHAT ACTIVITIES WERE YOU INVOLVED IN (CLUBS, SPORTS, ETC.) IN HS?
Football, basketball.
WHO WAS YOUR FAVORITE TEACHER AND WHAT WAS YOUR FAVORITE CLASS SUBJECT?
I enjoyed many teachers and classes, but my favorite was Gerry Chambers' Africa studies class.
WHAT ARE YOUR BEST MEMORIES OF HS?
Fairbanks road trips with the basketball team and cheerleaders... The free airline ticket from Mark Air to all graduates.
WHAT WAS YOUR MOST EMBARRASSING MOMENT IN HS?
I can't think of anything (selective memory?) - does anyone have any dirt on me?
WHAT IS SOMETHING YOU WANTED TO DO IN HS BUT NEVER DID?
I wish I would have flown to Pt. Barrow with the Mark Air tickets (just so I could have said I've been there).