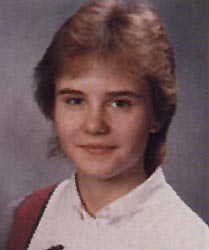 Are you this alumni? Please fill out this Alumni Form.
WHAT SONGS MAKE YOU THINK OF THE "GOOD OL' DAYS?"
Any of the pop hits from the 80's.
WHAT ACTIVITIES WERE YOU INVOLVED IN (CLUBS, SPORTS, ETC.) IN HS?
I was in cross country running, band, French club, and the French Honor Society.
WHO WAS YOUR FAVORITE TEACHER AND WHAT WAS YOUR FAVORITE CLASS SUBJECT?
My favorite subject was English. My favorite teachers (I can't pick just one) were: Juliana Armstrong, Barbara Sinclair, Kathy Goll (Sievert), Sheila Owens, and Jane Stoddard.
WHAT ARE YOUR BEST MEMORIES OF HS?
Graduation. I got some really nice surprises both on Graduation day and in the last few weeks leading up to graduation.
WHAT WAS YOUR MOST EMBARRASSING MOMENT IN HS?
I'll never tell!
WHAT IS SOMETHING YOU WANTED TO DO IN HS BUT NEVER DID?
Skip class.