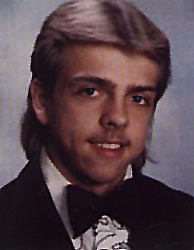 Are you this alumni? Please fill out this Alumni Form.
WHAT SONGS MAKE YOU THINK OF THE "GOOD OL' DAYS?"
"Magic Man" by Heart. Anything off of Ozzie's "Ultimate Sin" album. Anything by Dokken. "Passage to Bangkok" by Rush. All Big Hair Bands! Long live heavy metal!!
WHAT ACTIVITIES WERE YOU INVOLVED IN (CLUBS, SPORTS, ETC.) IN HS?
Language clubs. Will never forget doing the Can-Can with the French Club in Little Theater. I think one my breasts popped!
WHO WAS YOUR FAVORITE TEACHER AND WHAT WAS YOUR FAVORITE CLASS SUBJECT?
I took a TON of classes with Frau Sanders. Starting with my sophomore year, I took German I. By the time I was a senior, my whole day on some days was spent in her class.

As best as I can remember, I had her for: German I, German III, and German V, also Russian I and Russian II. I also had a semester of independent study for Esperanto. I was her teacher's aid my senior year. I went with her and the German class in the summer of 1985 to Europe for four months. I had the lead role in the German play that year (1986) playing the part of Staufacher, which required me to learn about 700 lines in German. Needless to say, I spent countless hours with her in rehersal, too. She remains to this day my favorite teacher that I EVER had through all my years in school. I hope you get other people e-mailing you with their own memories of her. She is a wonderful woman, and I know she will be greatly missed as she retires this year.
WHAT ARE YOUR BEST MEMORIES OF HS?
Spending time with my high school sweetie, Diane Zamkotowicz. Prom night. And the German Club's four month trip to Europe. (Or as I recall it: My beer tasting world tour.)
WHAT WAS YOUR MOST EMBARRASSING MOMENT IN HS?
You think I'll tell you that!!?
WHAT IS SOMETHING YOU WANTED TO DO IN HS BUT NEVER DID?
Play for the baseball team. I made the cut for the team my freshman year but between tryouts and the beginning of practices starting, I broke my elbow. Doh! After I started taking languages in my sophomore year, I didn't have time for it.