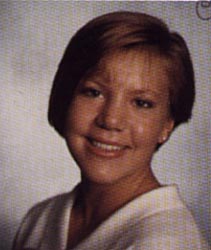 Are you this alumni? Please fill out this Alumni Form.
WHAT SONGS MAKE YOU THINK OF THE "GOOD OL' DAYS?"
Anything from the 80's. When I lived in L.A., Star 98 FM would have an 80's weekend. A definite time machine ride!
WHAT ACTIVITIES WERE YOU INVOLVED IN (CLUBS, SPORTS, ETC.) IN HS?
Swim Team. I think I tried the German club, but can't remember why I didn't want to stay with it.
WHO WAS YOUR FAVORITE TEACHER AND WHAT WAS YOUR FAVORITE CLASS SUBJECT?
Gerry Chambers was my favorite coach/teacher and the Career Center's Travel and Tourism was my favorite class/subject.
WHAT ARE YOUR BEST MEMORIES OF HS?
Swim team practices, meets and parties. School dances. Hanging out with Stacy K. and Scott G. on the Career center bus and laughing a lot!
WHAT WAS YOUR MOST EMBARRASSING MOMENT IN HS?
Age is a beautiful thing...I can't remember that far back.
WHAT IS SOMETHING YOU WANTED TO DO IN HS BUT NEVER DID?
I would have liked to try cross country skiing or another sport. I also think participating in a school play would have been fun.