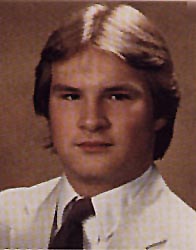 Are you this alumni? Please fill out this Alumni Form.
WHAT SONGS MAKE YOU THINK OF THE "GOOD OL' DAYS?"
I categorically deny listening to any of the music readers might associate with me. It's easier on us all this way.
WHAT ACTIVITIES WERE YOU INVOLVED IN (CLUBS, SPORTS, ETC.) IN HS?
I vaguely recall participation in the Spanish Club, and I had a bit part in Can-Can that was great fun.
WHO WAS YOUR FAVORITE TEACHER AND WHAT WAS YOUR FAVORITE CLASS SUBJECT?
Kathy Goll, who put up with me with great patience and, likely, some confusion.
WHAT ARE YOUR BEST MEMORIES OF HS?
Casting snark and trickery at whatever caught my eye, often with Craig Barstow and Scott Cowan (and often in Ms Goll's classes). The Can-Can cast party was pleasant. I remember freaking out a few people in various ways -- something I still enjoy, through more subtle means.
WHAT WAS YOUR MOST EMBARRASSING MOMENT IN HS?
I think this question pretty much answered itself.
WHAT IS SOMETHING YOU WANTED TO DO IN HS BUT NEVER DID?
Invert my introversion (that came years later).

This was fun! I cannot wait to do it again. If anyone is in touch with Lisa (Wood) Monvignier, I'd love to get back in contact with her.