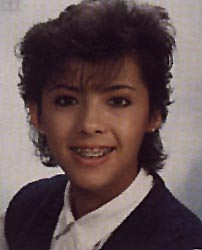 Are you this alumni? Please fill out this Alumni Form.
WHAT SONGS MAKE YOU THINK OF THE "GOOD OL' DAYS?"
Almost everything from the 80's. Remember Martha Quinn from MTV? She's a dj for a local radio station here in Salt Lake City and her show is all 80's retro, now that brings it all back!
WHAT ACTIVITIES WERE YOU INVOLVED IN (CLUBS, SPORTS, ETC.) IN HS?
No Information Provided.
WHO WAS YOUR FAVORITE TEACHER AND WHAT WAS YOUR FAVORITE CLASS SUBJECT?
My favorite teacher was Mr. Nelson -- remember when you would say "Hi" to Mr. Nelson, and he would reply "I wish I was"! Favorite subject were the business classes.
WHAT ARE YOUR BEST MEMORIES OF HS?
Meeting new friends. School dances.
WHAT WAS YOUR MOST EMBARRASSING MOMENT IN HS?
My freshman year, my brother's friends tried to tape me to the flag pole! I was kicking and screaming as they carried me through the halls and to outside. They never made it to the pole.
WHAT IS SOMETHING YOU WANTED TO DO IN HS BUT NEVER DID?
Join the symphonic band.