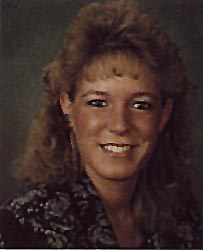 Are you this alumni? Please fill out this Alumni Form.
WHAT SONGS MAKE YOU THINK OF THE "GOOD OL' DAYS?"
"She Shook Me All Night Long??" by ACDC.
"Dash Board Lights" by Meatloaf.
WHAT ACTIVITIES WERE YOU INVOLVED IN (CLUBS, SPORTS, ETC.) IN HS?
Rollerskating, working, volleyball, basketball.
WHO WAS YOUR FAVORITE TEACHER AND WHAT WAS YOUR FAVORITE CLASS SUBJECT?
Work Program-taught office skills and allowed leaving school early to work. Teacher: Can't remember a name.
WHAT ARE YOUR BEST MEMORIES OF HS?
Buying my first car....a blue 78-79 camero. Hanging out with my friends.
WHAT WAS YOUR MOST EMBARRASSING MOMENT IN HS?
I can't think of one.
WHAT IS SOMETHING YOU WANTED TO DO IN HS BUT NEVER DID?
Go to Hawaii for Spring Break.