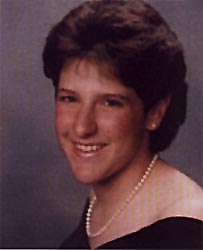 Are you this alumni? Please fill out this Alumni Form.
WHAT SONGS MAKE YOU THINK OF THE "GOOD OL' DAYS?"
Any 80's song!!!!!! Brian Adams, Journey, and don't forget Duran Duran!!!
WHAT ACTIVITIES WERE YOU INVOLVED IN (CLUBS, SPORTS, ETC.) IN HS?
I was invoved in German Club and made a valient attempt at soccer. Made a super bench warmer!
WHO WAS YOUR FAVORITE TEACHER AND WHAT WAS YOUR FAVORITE CLASS SUBJECT?
I loved German class!
WHAT ARE YOUR BEST MEMORIES OF HS?
When we went to Prom, my friends got parking tickets for not putting money in the meter! (My date got lucky!) We wound up going to Denny's after Prom instead of the fancy place we had planned to go to. It was lucky we were late! They wouldn't have had the money to get the cars back!
WHAT WAS YOUR MOST EMBARRASSING MOMENT IN HS?
No Information Provided.
WHAT IS SOMETHING YOU WANTED TO DO IN HS BUT NEVER DID?
No Information Provided.