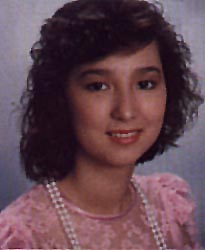 Are you this alumni? Please fill out this Alumni Form.
WHAT SONGS MAKE YOU THINK OF THE "GOOD OL' DAYS?"
All the oldies make me think of the good old days.
WHAT ACTIVITIES WERE YOU INVOLVED IN (CLUBS, SPORTS, ETC.) IN HS?
Lots but my memory fails me now. I will search through the yearbooks to try and determine them all. I remember being Vice-President of the Sophomore or Junior class??? I remember cheerleading for basketball. I remember the National Honor Society, French National Honor Society.
WHO WAS YOUR FAVORITE TEACHER AND WHAT WAS YOUR FAVORITE CLASS SUBJECT?
Mrs. Sinclair and Mr. Moser. Mrs. Goll, Mademoiselle Higley, Mr. Wolfe, Mrs. Armstrong - just to name a few. I really liked most of my teachers.
WHAT ARE YOUR BEST MEMORIES OF HS?
I really don't have any. College was way better.
WHAT WAS YOUR MOST EMBARRASSING MOMENT IN HS?
Trying to pronounce melancholy in Mrs. Armstrong's class.
WHAT IS SOMETHING YOU WANTED TO DO IN HS BUT NEVER DID?
No Information Provided.