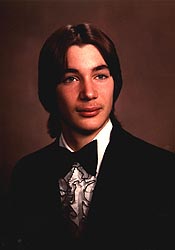 Are you this alumni? Please fill out this Alumni Form.
WHAT SONGS MAKE YOU THINK OF THE "GOOD OL' DAYS?"
Pick any of the classics... You know... like when you're watching late night bedtime television and during a commercial you start channel surf... hmmm an infomercial what are they advertising now? You know the songs of the 80's, that 200 song monster collection that every other one makes you think of some past school memory.
WHAT ACTIVITIES WERE YOU INVOLVED IN (CLUBS, SPORTS, ETC.) IN HS?
Hmmm... No clubs, dropped school sports in junior high... Went skiing lots, played school yard "pond" hockey, late nights playing games on dad's computer, fishing, camping.
WHO WAS YOUR FAVORITE TEACHER AND WHAT WAS YOUR FAVORITE CLASS SUBJECT?
Have to say Mr. Carlson, he was the one I can still remember standing outside his classroom door before every class... making smart comment after smart comment to anyone speaking to him. Graphic Arts, cranking up the print press, hearing it whirl... make sure teachers not listening.
WHAT ARE YOUR BEST MEMORIES OF HS?
Wow. As every year goes by different memory seems to come in when one goes out... though working the movies at Totem and 4th Avenue theaters I think will always remain strong.
WHAT WAS YOUR MOST EMBARRASSING MOMENT IN HS?
??? I'm sure there is a bunch of them, but I'm drawing a blank now.
WHAT IS SOMETHING YOU WANTED TO DO IN HS BUT NEVER DID?
Always wished I would have kept up with the (school) organized hockey. Playing adult league now is fun though, plus I've got a boy to teach... two years two days old and he was on skates, little guy had a blast.