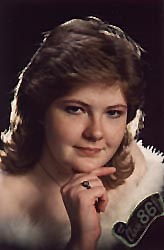 Are you this alumni? Please fill out this Alumni Form.
WHAT SONGS MAKE YOU THINK OF THE "GOOD OL' DAYS?"
Anything from Duran Duran, Cindy Lauper, "Every Breath You Take," "That's What Friends Are For," and "Raspberry Beret."
WHAT ACTIVITIES WERE YOU INVOLVED IN (CLUBS, SPORTS, ETC.) IN HS?
Newspaper, AJROTC, and Rifle Team.
WHO WAS YOUR FAVORITE TEACHER AND WHAT WAS YOUR FAVORITE CLASS SUBJECT?
Satch Carlson, Mrs. Johnson, newspaper, lunch. :)
WHAT ARE YOUR BEST MEMORIES OF HS?
No Information Provided.
WHAT WAS YOUR MOST EMBARRASSING MOMENT IN HS?
Paula Herring opening the door to the women's shower as I was reaching for a towel, giving a whole bunch of male cadets a full frontal (Hawaii ROTC Spring Camp).
WHAT IS SOMETHING YOU WANTED TO DO IN HS BUT NEVER DID?
I should have told a certain someone how I really felt about him.