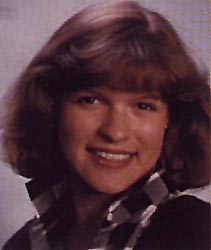 Are you this alumni? Please fill out this Alumni Form.
WHAT SONGS MAKE YOU THINK OF THE "GOOD OL' DAYS?"
Popular songs by Madonna, John Mellencamp, New Edition, the Carrs, INXS, REO Speedwagon (just to name a few).
WHAT ACTIVITIES WERE YOU INVOLVED IN (CLUBS, SPORTS, ETC.) IN HS?
Volleyball, track, XC running, band, nat'l honor society, yearbook.
WHO WAS YOUR FAVORITE TEACHER AND WHAT WAS YOUR FAVORITE CLASS SUBJECT?
Mrs. Sinclair, Mr. Tryon, Coach Whitmore, Diana Peterson, Mr. Wilson, Mrs. Earl, Jay Jackson.
WHAT ARE YOUR BEST MEMORIES OF HS?
Band tours; volleyball trips; football, hockey and basketball games; doing lots of fun things w/friends.
WHAT WAS YOUR MOST EMBARRASSING MOMENT IN HS?
I can't recall... :-)
WHAT IS SOMETHING YOU WANTED TO DO IN HS BUT NEVER DID?
Do volunteer work for the community, be involved in student government, and go out for cheerleading.