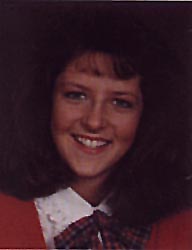 Are you this alumni? Please fill out this Alumni Form.
WHAT SONGS MAKE YOU THINK OF THE "GOOD OL' DAYS?"
Anything by the Clash, Alphavilles "Forever Young," and that song about the "fly girl??"
WHAT ACTIVITIES WERE YOU INVOLVED IN (CLUBS, SPORTS, ETC.) IN HS?
Volleyball and track.
WHO WAS YOUR FAVORITE TEACHER AND WHAT WAS YOUR FAVORITE CLASS SUBJECT?
Coach Petersen and humanities.
WHAT ARE YOUR BEST MEMORIES OF HS?
Sports events and roaming the halls at lunch time. Volleyball practice and watching the wrestlers.
WHAT WAS YOUR MOST EMBARRASSING MOMENT IN HS?
When Steve Walton thought I had shorts under my sweats and depantsed me.
WHAT IS SOMETHING YOU WANTED TO DO IN HS BUT NEVER DID?
No Information Provided.