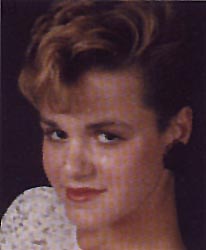 Are you this alumni? Please fill out this Alumni Form.
WHAT SONGS MAKE YOU THINK OF THE "GOOD OL' DAYS?"
Anything CLASH. Social Distortion. Soundtrack from Footloose. Heatwave's " Always and Forever" song. Bryan Adams from prom :-).
WHAT ACTIVITIES WERE YOU INVOLVED IN (CLUBS, SPORTS, ETC.) IN HS?
Student Government, French Club, Bear Pause, freshman year basketball.
WHO WAS YOUR FAVORITE TEACHER AND WHAT WAS YOUR FAVORITE CLASS SUBJECT?
Cathy Goll (Humanities) & Terry Higley (French). Pete Tryon was a favorite as well.
WHAT ARE YOUR BEST MEMORIES OF HS?
Cold autumn football games- seeing everyone after a summer apart. Great dances at a school where students knew how to get their groove going! Looking up at friends (and cute boys) on the mezzanine from gym class below.
WHAT WAS YOUR MOST EMBARRASSING MOMENT IN HS?
It involved drinking (go figure) and setting up for a graduation event. I nearly knocked myself out with a folding chair. Ridiculous. How'd I ever make it to the diploma?
WHAT IS SOMETHING YOU WANTED TO DO IN HS BUT NEVER DID?
Try out for a school play. Run and ski x-country. Oh, and transcend adolescent self-absorption.