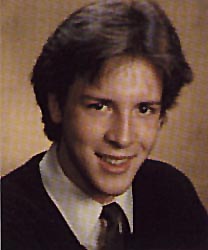 Are you this alumni? Please fill out this Alumni Form.
WHAT SONGS MAKE YOU THINK OF THE "GOOD OL' DAYS?"
"Russians" by Sting. Pretty much anything by The Police. "The Oak Tree" by Morris Day & The Time. All of Bryan Adams' "Reckless" album.
WHAT ACTIVITIES WERE YOU INVOLVED IN (CLUBS, SPORTS, ETC.) IN HS?
Wrestling and track for a bit. Cartoonist for the school newspaper.
WHO WAS YOUR FAVORITE TEACHER AND WHAT WAS YOUR FAVORITE CLASS SUBJECT?
Mr. McGowan! He was and is the best! He had the best weight lifting class and was a terrific mentor!
WHAT ARE YOUR BEST MEMORIES OF HS?
The time a certain group of deliquents locked the doors of Purple Hall for the Class Prank!
WHAT WAS YOUR MOST EMBARRASSING MOMENT IN HS?
Listening to Mrs. Sinclair mutterring some profanities about the kids who locked the doors! Who knew!
WHAT IS SOMETHING YOU WANTED TO DO IN HS BUT NEVER DID?
Looking back, I think I would've liked to play football. Played a lot while I was in college.