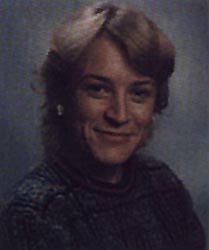 Are you this alumni? Please fill out this Alumni Form.
WHAT SONGS MAKE YOU THINK OF THE "GOOD OL' DAYS?"
The only song that I think of is the song "Pretty in Pink." You know, the movie with Andrew McCarthy and that chick that was in "Sixteen Candles?" Every time I hear the song, it reminds me of the prom and the best times I had at Bartlett.
WHAT ACTIVITIES WERE YOU INVOLVED IN (CLUBS, SPORTS, ETC.) IN HS?
Well, since I moved from Montana to graduate with a friend of mine from Alaska, I only went to Bartlett for my senior year. I wasn't in anything.
WHO WAS YOUR FAVORITE TEACHER AND WHAT WAS YOUR FAVORITE CLASS SUBJECT?
I really didn't have a favorite teacher since I only went to Bartlett my senior year. There was no favorite class subject.
WHAT ARE YOUR BEST MEMORIES OF HS?
My best memories of BHS was living with my best friend Patti Fletcher and her family and being asked to the prom by Brian Crissey. Even though we broke up shortly after graduation, we had a lot of fun.
WHAT WAS YOUR MOST EMBARRASSING MOMENT IN HS?
None.
WHAT IS SOMETHING YOU WANTED TO DO IN HS BUT NEVER DID?
To get to know more people. Since I came from Montana and only went to BHS my senior year, one year wasn't enough to know everyone.