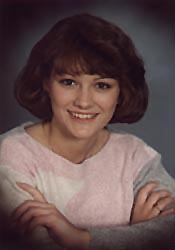 Are you this alumni? Please fill out this Alumni Form.
WHAT SONGS MAKE YOU THINK OF THE "GOOD OL' DAYS?"
Quiet Riot, Scorpions ... my kids have pretty much the same opinion of them as my parents did!
WHAT ACTIVITIES WERE YOU INVOLVED IN (CLUBS, SPORTS, ETC.) IN HS?
I think I spent my entire high school career grounded!! (Don't ask...)
WHO WAS YOUR FAVORITE TEACHER AND WHAT WAS YOUR FAVORITE CLASS SUBJECT?
Mlle Higley was terrific. I was sad to hear that she'd died.
WHAT ARE YOUR BEST MEMORIES OF HS?
Hanging out with friends .. enjoying my time with my boyfriend Tony - who is STILL my friend by the way...
WHAT WAS YOUR MOST EMBARRASSING MOMENT IN HS?
Like I'd tell!
WHAT IS SOMETHING YOU WANTED TO DO IN HS BUT NEVER DID?
Participated more. I went to Career Center and then work - so I was out of school by 10:20 for both my Jr and Sr years.