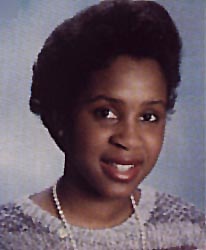 Are you this alumni? Please fill out this Alumni Form.
WHAT SONGS MAKE YOU THINK OF THE "GOOD OL' DAYS?"
"It's Like That" - Run DMC.
WHAT ACTIVITIES WERE YOU INVOLVED IN (CLUBS, SPORTS, ETC.) IN HS?
Cheerleader, student government, blacks in government, yearbook.
WHO WAS YOUR FAVORITE TEACHER AND WHAT WAS YOUR FAVORITE CLASS SUBJECT?
Janice Boots, my French Teacher, Mr. Whitmore.
WHAT ARE YOUR BEST MEMORIES OF HS?
Friends, the innocence of the times, the football and basketball games, our freedom of choice.
WHAT WAS YOUR MOST EMBARRASSING MOMENT IN HS?
I think I've erased that from my memory!!!
WHAT IS SOMETHING YOU WANTED TO DO IN HS BUT NEVER DID?
Go out for a drama play.