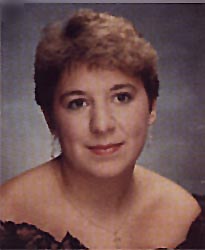 Are you this alumni? Please fill out this Alumni Form.
WHAT SONGS MAKE YOU THINK OF THE "GOOD OL' DAYS?"
"Rock You Like a Hurricane" by the Scorpions....reminds me of my Germany trip...what a blast that was.
WHAT ACTIVITIES WERE YOU INVOLVED IN (CLUBS, SPORTS, ETC.) IN HS?
German Club, Bear-A-Tones and Concert Choir, Wrestling Manhandlers.
WHO WAS YOUR FAVORITE TEACHER AND WHAT WAS YOUR FAVORITE CLASS SUBJECT?
Frau Saunders.
WHAT ARE YOUR BEST MEMORIES OF HS?
I loved HS. All my years at Bartlett were great. What wonderful friendships I made.
WHAT WAS YOUR MOST EMBARRASSING MOMENT IN HS?
Oh heck...I made so many!!!
WHAT IS SOMETHING YOU WANTED TO DO IN HS BUT NEVER DID?
Be in a play...but I really sucked in the try outs!!! LOL :o)