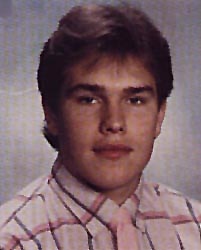 Are you this alumni? Please fill out this Alumni Form.
WHAT SONGS MAKE YOU THINK OF THE "GOOD OL' DAYS?"
I don't remember any of the 80's music.
WHAT ACTIVITIES WERE YOU INVOLVED IN (CLUBS, SPORTS, ETC.) IN HS?
Participated in Football and Wrestling.
WHO WAS YOUR FAVORITE TEACHER AND WHAT WAS YOUR FAVORITE CLASS SUBJECT?
I really liked Mr. Wilsons AP biology classes. Mr. Trion's Trig classes helped me to organize my thinking, and the chemistry department was great.
WHAT ARE YOUR BEST MEMORIES OF HS?
I loved living in Alaska! My time at Bartlett was well spent, and it was great to go to a school that had so many great teachers and students.
WHAT WAS YOUR MOST EMBARRASSING MOMENT IN HS?
No Information Provided.
WHAT IS SOMETHING YOU WANTED TO DO IN HS BUT NEVER DID?
I think I spent to much time studying, and not enough time playing.