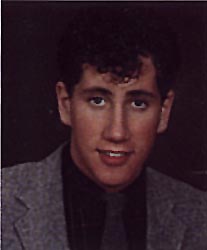 Are you this alumni? Please fill out this Alumni Form.
WHAT SONGS MAKE YOU THINK OF THE "GOOD OL' DAYS?"
"Back in Black" and "Money for Nothin".
WHAT ACTIVITIES WERE YOU INVOLVED IN (CLUBS, SPORTS, ETC.) IN HS?
Newspaper and ...
WHO WAS YOUR FAVORITE TEACHER AND WHAT WAS YOUR FAVORITE CLASS SUBJECT?
Ms. Richmond, Photography.
WHAT ARE YOUR BEST MEMORIES OF HS?
Just being in high school in Alaska.
WHAT WAS YOUR MOST EMBARRASSING MOMENT IN HS?
Steve Bolling spiking a Mexican Beer...not cool.
WHAT IS SOMETHING YOU WANTED TO DO IN HS BUT NEVER DID?
Play football and basketball. 6'6" and completely uncoordinated won't get it done.