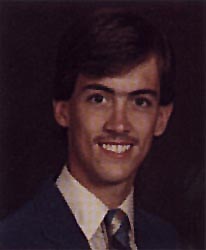 Are you this alumni? Please fill out this Alumni Form.
WHAT SONGS MAKE YOU THINK OF THE "GOOD OL' DAYS?"
It seems like anything on the oldies stations nowadays.
WHAT ACTIVITIES WERE YOU INVOLVED IN (CLUBS, SPORTS, ETC.) IN HS?
Swim Team, German and Russian Clubs.
WHO WAS YOUR FAVORITE TEACHER AND WHAT WAS YOUR FAVORITE CLASS SUBJECT?
Frau Sanders for German and Russian.
WHAT ARE YOUR BEST MEMORIES OF HS?
Besides missing my junior year by being an exchange student, the late night coffee sessions with Greg and Jarle at Village Inn.
WHAT WAS YOUR MOST EMBARRASSING MOMENT IN HS?
I've repressed all of those.
WHAT IS SOMETHING YOU WANTED TO DO IN HS BUT NEVER DID?
Get a convertable.