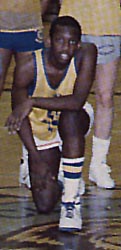 Are you this alumni? Please fill out this Alumni Form.
WHAT SONGS MAKE YOU THINK OF THE "GOOD OL' DAYS?"
Careless Whispers, Take On Me, A Fly Girl, Jungle Love, Need You Tonight, The Show, and anything by Run DMC.
WHAT ACTIVITIES WERE YOU INVOLVED IN (CLUBS, SPORTS, ETC.) IN HS?
Basketball and track.
WHO WAS YOUR FAVORITE TEACHER AND WHAT WAS YOUR FAVORITE CLASS SUBJECT?
Teachers: Ms. Hollinbaugh and Larry Whitmore.
Classes: French I, PE, and Small Engine Repair.
WHAT ARE YOUR BEST MEMORIES OF HS?
Being the first Bartlett Boys basketball team to win state. Hanging out with Reggie and Larry, Mike Giles, Gary "Golden Glide" McDonald, Janene, Meg, Dave Mayer, Trill. I guess it would have been easier to say the Boys basketball team and the cheerleaders. Raising kids with Megan has been the highlight of my life but damn we had some great times, times that I will take with me to the grave with a smile on my face. And who could forget 4th period PE with Larry Whitmore!
WHAT WAS YOUR MOST EMBARRASSING MOMENT IN HS?
During a game in Homer I pulled on my shorts and the draw string wasn't tied and the next thing I noticed or felt was a cool breeze on my naked buns.
WHAT IS SOMETHING YOU WANTED TO DO IN HS BUT NEVER DID?
I wished I would have gotten to know a lot more people in our class. Take my Senior picture. Done A LOT better in my classes. Play Football. And really wished Ms. Hollinbaugh would have taken me up on the invite to Prom!