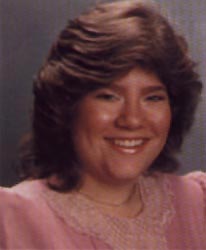 Are you this alumni? Please fill out this Alumni Form.
WHAT SONGS MAKE YOU THINK OF THE "GOOD OL' DAYS?"
You Give Love a Bad Name - Bon Jovi, pretty much anthing from '84 to '86.
WHAT ACTIVITIES WERE YOU INVOLVED IN (CLUBS, SPORTS, ETC.) IN HS?
Junior Achievement.
WHO WAS YOUR FAVORITE TEACHER AND WHAT WAS YOUR FAVORITE CLASS SUBJECT?
Mr. Chambers and my favorite subject was Creative Writing.
WHAT ARE YOUR BEST MEMORIES OF HS?
My high school years were hell, and I feel the best memories I have were after school.
WHAT WAS YOUR MOST EMBARRASSING MOMENT IN HS?
Which day and what time?!!
WHAT IS SOMETHING YOU WANTED TO DO IN HS BUT NEVER DID?
I wish I could have enjoyed school more and not been so serious and self-conscience.