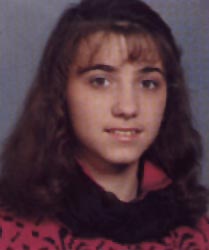 Are you this alumni? Please fill out this Alumni Form.
WHAT SONGS MAKE YOU THINK OF THE "GOOD OL' DAYS?"
Foreigner, *I Wanna Know What Love Is*; WHAM!, *Wake Me Up Before You Go-go" (Some of our music was so LOUSY!).
WHAT ACTIVITIES WERE YOU INVOLVED IN (CLUBS, SPORTS, ETC.) IN HS?
The ever-feminine rifle team (first in state senior year), French Honor Society/French Club, swam (poorly) one year.
WHO WAS YOUR FAVORITE TEACHER AND WHAT WAS YOUR FAVORITE CLASS SUBJECT?
Mmle. Higley and French class; Mrs. Sinclair and Mrs. Owen, who gave us amazing things to read.
WHAT ARE YOUR BEST MEMORIES OF HS?
Wow, hmmm..., junior year, went to prom with Jim Albrecht; felt like I was part of the "in-crowd" of class of '85 for about 45 minutes.
WHAT WAS YOUR MOST EMBARRASSING MOMENT IN HS?
Lord, if no one knows, why remind them?!?! Actually, pretty much my entire freshman and sophomore years. Oh, yeah -- and some un-named teacher mis-pronounced my name at graduation. NICE work; not my fault.
WHAT IS SOMETHING YOU WANTED TO DO IN HS BUT NEVER DID?
Do a play. Run track. WEAR the honor cord at graduation (3.5 gpa at EIGHTH semester was not soon enough for Mrs. Dawson... DOH! I had one, too, but not the guts to put it on and RUN across the stage).