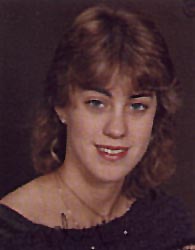 Are you this alumni? Please fill out this Alumni Form.
WHAT SONGS MAKE YOU THINK OF THE "GOOD OL' DAYS?"
Any songs from Top Gun!
WHAT ACTIVITIES WERE YOU INVOLVED IN (CLUBS, SPORTS, ETC.) IN HS?
I should have gotten involved in more activities. I worked many after school jobs, which kept me too busy for anything else.
WHO WAS YOUR FAVORITE TEACHER AND WHAT WAS YOUR FAVORITE CLASS SUBJECT?
My favorite subject was a science class in the 9th grade. I can not remember the teacher's name but I can remember his face very clearly. He had longer hair and a beard. He always made his class so much fun that you didn't even notice he taught you at the same time.
WHAT ARE YOUR BEST MEMORIES OF HS?
Hanging out in the halls with friends.
WHAT WAS YOUR MOST EMBARRASSING MOMENT IN HS?
My most embareassing *Notice Spelling* was Senior Skip day when my friend took a picture while I was using the woods.
WHAT IS SOMETHING YOU WANTED TO DO IN HS BUT NEVER DID?
I wish now that I would have taken some computer classes. I had no idea what I was missing.