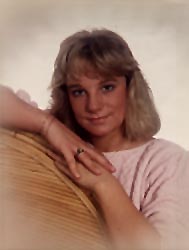 Are you this alumni? Please fill out this Alumni Form.
WHAT SONGS MAKE YOU THINK OF THE "GOOD OL' DAYS?"
"Rebel Yell" by Billy Idol; "Rock! Rock! (Till You Drop)" and "Rock of Ages" by Def Leppard; "Control" and "Nasty" by Janet Jackson; "I Love Rock and Roll" by Joan Jett; "Girls Just Want to Have Fun" by Cyndi Lauper; "Lovin' Every Minute Of It" by Loverboy; "Material Girl," "Like a Virgin," and "Papa Don't Preach" by Madonna; "Who Can It Be Now" by Men at Work; "Beat It" by Michael Jackson; "Another One Bites the Dust" by Queen; "Cum on Feel the Noise" by Quiet Riot; "I Can't Drive 55" by Sammy Hagar; "We Built This City" by Starship; "Shout" by Tears for Fears; and "Sharp Dressed Man" by ZZ Top.


WHAT ACTIVITIES WERE YOU INVOLVED IN (CLUBS, SPORTS, ETC.) IN HS?
Ran for Senior Class President; Student Government; National Honor Society; Newspaper Staff; OEA Club; Pep Club; Wrestling Manhandlers.


WHO WAS YOUR FAVORITE TEACHER AND WHAT WAS YOUR FAVORITE CLASS SUBJECT?
I would have to split this between Pete Tryon who encourage me to take computer classes and Merle Askleand who influenced my business sense.


WHAT ARE YOUR BEST MEMORIES OF HS?
Some of my favorite memories of high school was going to the senior prom in a tuxedo; the challenge of running for senior class president against Jeb Downing; the after prom party I had at the Captain Cook Hotel and getting caught because Rob Williams pulled the fire alarm; going to every concert that came into town; having a fake id to buy alcohol; going to kegger parties; the lunch bet Kelley Butler and I had with Mr. Tryon on the proper pronunciation of Denali (Tryon won); four wheeling behind Totem Theaters; going to the OEA State and then National Competition in Columbus, Ohio (only my second trip out of AK); that I was going to be the "first" girl bodybuilder in the Mr. Bartlett contest until I found out I was going to the OEA Competition in Ohio (it was the same weekend); cruising the strip with my good friends Kelley Butler, Cindy Huhn, Ginger Hutson, Laurie Wiles, Dawn Moe, Correna Krook, Renee Law, Donna Davis, and Annette Parker and the many limo rides we all shared.

I also remember my one visit to the principal office when Cindy Huhn's boyfriend wrote in black permanent marker two big hearts with all our names in it across the purple hall carpet.


WHAT WAS YOUR MOST EMBARRASSING MOMENT IN HS?
I never had anything happen to me that was extremely embarrassing. I do remember, however, cruising the strip to show off my car that I just bought and I hadn't mastered how to drive a stick yet. I stalled the car at every light and my friends just laughed at me! I also remember another time when I had just had my car windows tinted and I went cruising the strip with all my friends but because the windows weren't dry yet, we had to open the doors to talk to guys! Too funny!


WHAT IS SOMETHING YOU WANTED TO DO IN HS BUT NEVER DID?
Although I wouldn't change anything because the challenges I faced back then made me who I am today, I've always wished I could have tried out for cheerleading (I had to work). After building this web site, I also wished I had the opportunity to go with the German students to Germany and the other countries they visited over the 1985-86 long summer. It looks like they had a lot of fun and what a great experience!